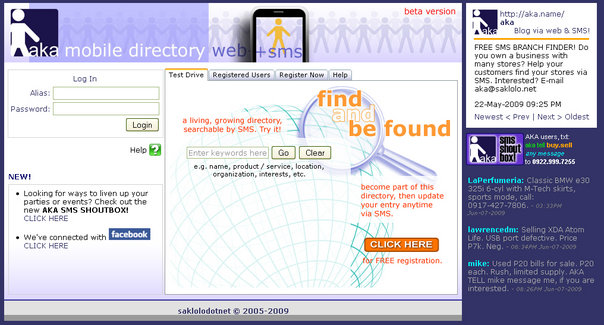 A few days ago I was searching for another mini-blog or micro-blogging platform to try. I stumbled upon this site called AKA Mobile Directory and surprisingly it offers a lot than what I expected and what I'm looking for. Aside for having mini-blogs it also has a Search Engine, Messaging and Merchant Applications where they can be used to interact with their customers.
It is so easy to register at AKA Mobile Directory; all you need is to have an alias and a mobile number. After hitting the submit button you'll then receive an SMS from AKA Mobile Directory containing your temporary password for you to login.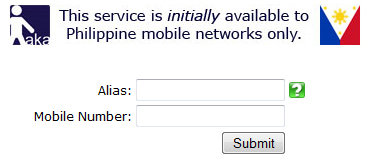 AKA's mini-blogs are designed for single messaging system, so meaning messages are relatively short. To post a mini-blog from your phone all you have to do is to type AKA BLOG your message then send to 0922-999-7255. It's like blogging via SMS and web, it's also an SMS search engine.
You can also connect your AKA mini-blog to your facebook profile. It will automatically update your Facebook Status whenever you have a new post on your AKA blog.
If you have a website or blog you can embed a fully customized mini-blogs widget. The widget looked like the one below when in default settings, though you can customize it to match the color of your blog layout.
Enjoy this article?